About DRYeye Forte
A New and Advanced Treatment for Dry Eye Syndrome

DRYeye Forte is an innovative, evidence-based formula that delivers systemic relief for Dry Eye Syndrome. Featuring a proprietary blend of essential fatty acids and nutrients to support and augment the layers of the tear film and help reduce inflammation, it addresses the underlying causes of dry eye symptoms.

DRYeye Forte's patented, Australian developed formulation provides highly concentrated omega-3 EPA and DHA from premium grade, re-esterified, sustainably sourced, mercury-tested and surfactant free fish oil.
The unique and specialised omega-6 fatty acid GLA is delivered from the rich plant-based source Borago officinalis, or borage oil. Vitamin D3 with its important anti-inflammatory properties is also featured in DRYeye Forte, as deficiency in Vitamin D is strongly correlated with dry eye syndrome. DRYeye Forte also includes a potent combination of natural Vitamin E d-alpha tocopherol and mixed tocopherols including the powerful antioxidant, gamma tocopherol. These antioxidants enhance and optimise the omega-3's, and also provide anti-inflammatory support for the eyes.
Formula & Dosage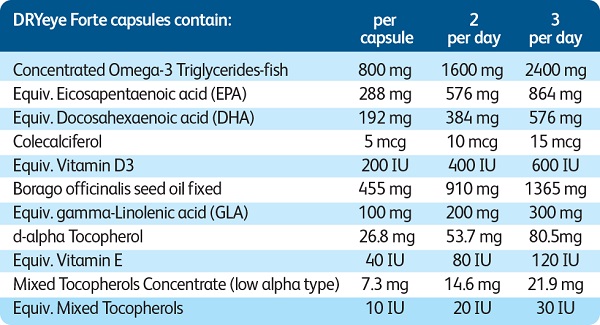 It is recommended that adults begin with a dosage of 3 capsules per day for first 6-8 weeks, or until symptoms have reduced. Once symptoms begin to subside, intake can be reduced to 2 capsules per day, as a maintenance dosage.
Physical Description
A clear, golden, oblong, soft gelatin capsule. Each pack of DRYeye Forte contains 60 soft gel capsules.
Contraindications and Cautions...
Use only as directed. Always read the label.
Not recommended for use during pregnancy.
Not recommended for children under 18 years.
Consult your healthcare professional before use if you are taking other medications, such as Warfarin.
With all supplements, there is a possibility that individuals may be intolerant of specific ingredients.
Consult your Eye Care Professional or Medical Practitioner if symptoms persist or if you have any concerns.