DRYeye Forte is a new, high potency formulation that provides systemic relief from Dry Eye syndrome.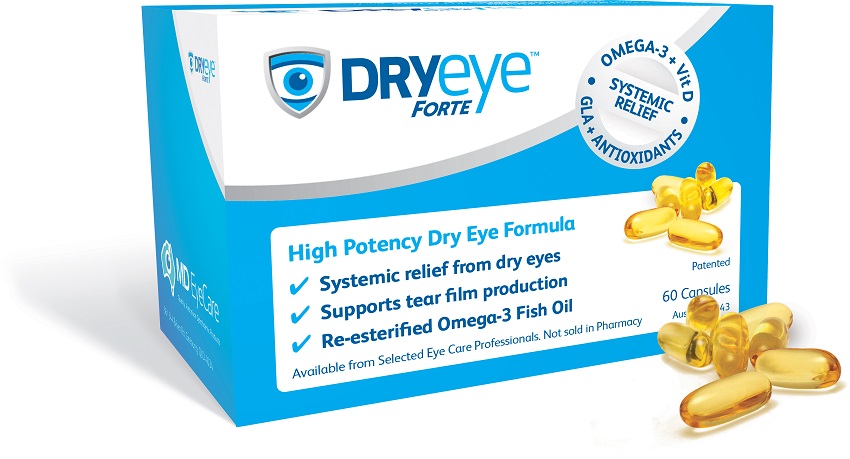 DRYeye Forte's science-based, patented formulation delivers a unique blend of re-esterified omega-3 EPA & DHA from Fish Oil, omega-6 GLA from Borage Oil, Vitamin D3 and antioxidants.
Targeting the root causes of dry eye and working from the inside out, DRYeye FORTE increases tear production, improves the quality of the tear film, and reduces inflammation.
Systemically relieves dry eyes

Ideal for dry eye syndrome associated with contact lens intolerance, air-conditioning, air travel,

environmental factors,

symptoms of menopause,

LASIK and other eye surgery patients

May replace the need for eye drops and lubricants

High quality ingredients sourced from around the world including re-esterified concentrated, mercury tested, sustainably sourced omega-3 fish oil,

providing high strength EPA & DHA

Proprietary blend provides essential fatty acids not easily obtained from a typical diet, such as gamma-Linolenic acid GLA from Borage Oil
Blister sealed to ensure maximum freshness and potency
Australian developed and owned, and formulated in a world-class Australian pharmaceutical facility under the highest therapeutic manufacturing standard
Affordably priced with Free Delivery for 4 or more packs
​
Formula & Dosage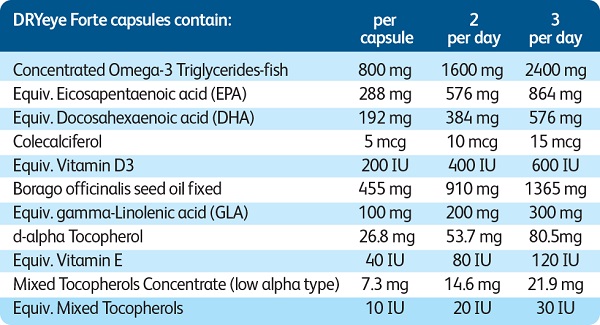 It is recommended that adults begin with a dosage of 3 capsules per day for first 6-8 weeks, or until symptoms have reduced. Once symptoms begin to subside, intake can be reduced to 2 capsules per day, as a maintenance dosage.

DRYeye Forte is a product of MD EyeCare Pty Ltd, an Australian private healthcare company dedicated to developing specialist eye formulations that are scientifically supported by strong clinical evidence.
Our products are encapsulated in a leading Australian pharmaceutical facility under the highest therapeutic manufacturing standard and using only premium quality ingredients sourced from around the world.
MD EyeCare products are made available direct to customers. Eyecare Professionals may direct use of this product also. We strive to provide professional, evidence-based, high quality eye products at affordable prices.
MD EyeCare in the Community
At MD EyeCare, we are passionate about eye health. Improving eye health outcomes in the wider and global community is also very important to us. We proudly support the dedicated hard work of Sight For All Vision 1000.